Enroute to Everest and Makalu 4PM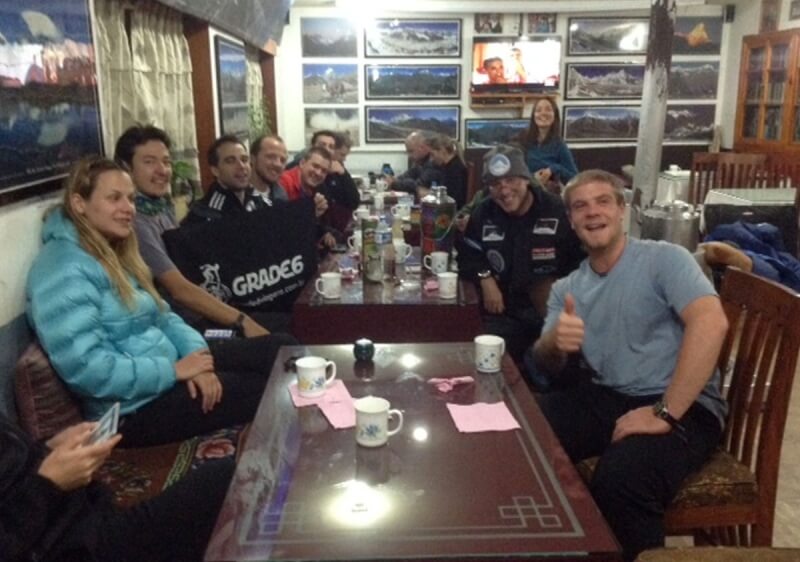 Spring season is well underway despite some early minor setbacks due to flights…our teams are on the trail!
Sumit, Chhirring and Wangda are in the Khumbu with Brazilian outfit Grade 6 and their guides, Everest client, Island peak climbers and merry EBC trekkers (stinky clothes and bodies –due to delayed luggage– haven't dented this mob's enthusiasm). They are currently in Tengboche where it is lightly snowing. In a few days they will join up with Angkaji, Rabin and others who arrived a week earlier to establish the home away from home at Everest base camp.
Jangbu is also trekking in with Sumit & co. He's feeling fresh after just completing a circuit of the Khumbu with climbs on Lobuche and Island Peak with Robert Savoye and Laurelyn Sayah (USA). Special cheers to techie Robert for sorting out our solar set up and radios!! Deepak is touring with Wayne and his niece (NZ) at the moment also in the Khumbu. He guided Clay and Katie (Australia) earlier this season, and has another trip booked with Allan and Bobby soon…fortunately he does not tire of the Khumbu.
Although Makalu is just around the corner from Everest, the trek to base camp follows a separate route through the Makalu-Barun national park. The Makalu team of Lakpa, Christine Burke (Australia/NZ) and Vance Cook (USA) left just today beginning with a flight to Tumlingtar and drive/trek to Khadbari. Base camp for them is also a few days away with lots of hilly ups and downs.